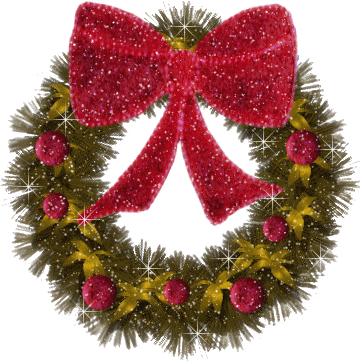 Every year, three weeks before New Year's eve, my family, like many others, hangs a nice, decorative wreath on the front door.
When I was a kid, I invented a ritual - back then we lived on the 8th floor of a high building and, on the day when the wreaths are traditionally hanged for children to admire and for the neighbours to envy , I never used the lift. Instead, I would walk all the way up to the last floor carefully examining every wreath in the building. (OK, I admit, I would also usually spit my chewing gum from the balcony on the last floor just to test the law of gravity!)
Then, a few days later, I would repeat the ritual and would usually notice that a few wreaths had been replaced in the mean time. Each time my friend and his mother who lived on the 3rd floor put a lovely, shiny ring on their door, their first neighbour would buy herself a new, shinier one! It was a real war!
I haven't abandoned my little ritual to this day and, although my family now lives on the 6th floor of a much smaller building, the route to the top still turns into a decent gallery in December.
I finished my first inspection of the wreaths 2 days ago. :) This year 3 wreaths between the 3rd and the 5th floor are sea-themed; sea shells, sea stars and pebbles. That's new and original! (But, let's face it- it has to be a conspiracy! I suspect that there's a secret wreath-society downstairs that does not accept members from the upper floors! Bummer!)
Apart from the freemason's sea-themed wreaths, most others are pretty traditionally decorated; Christmas stars, bells, ribbons and ornaments, 1 Mickey Mouse and 2 Ninja turtles.
Some are made of fresh pine branches, others only have a few ugly plastic flowers on them. Some are new, some are old, and some are simply not up to this competition any more. I believe that one of them is actually ours. :) It is still lovely, the willow ring is still firm and glossy only the tiny decorations and fake Christmas stars are not in the best of all shapes any more. The wreath fell off more than once and some of the decorations had to be replaced, others are damaged and a few beg to be replaced (with Ninja turtles) as soon as possible.
So, I decided that our door needed a new wreath. A hand made one. Yesterday I went to a supermarket where they sell plain, styrofoam rings and bought one ring and a few styrofoam balls. Then I sat down in front of my computer and Googled! And Googled! And Googled! And I realised that there are THOUSANDS of amazing wreaths made with yarn, knit, crocheted and felted out there. I'm not sure I will actually have this wreath finished before 2012. - all the inspiration models are so lovely that I just can't make up mind. I think I will actually have to take a year to think and decide which one to make. :)
So, before I can hang my own yarn wreath on my blog, I'll share some of the loveliest examples from the internet with you!
They are not all necessarily Christmas wreaths but that doesn't even matter! They're all gorgeous!
Yarn balls, felted flowers, garter ribbons, knitting needles, pom-poms, knit fabric, crocheted lace, argyle, stripes...you name it!
And, my personal favourite:
:)))) Obviously!
The following links will take you to a few lovely tutorials. In some of them you will find the instructions for making a few of the wreaths posted above.
Enjoy and happy crafting!